News 25 October 2019
25 October 2019:
Dented dust cap of paper repaired visually and technically. The dust cap isn't just to avoid dust. Certain the paper solid ones play the high frequencies of the speaker. Therefore it's important to get the dented paper dust cap not only visually correct, but also technically correct. That's what we're going to do in this video:
https://www.youtube.com/watch?v=0D6gi5WqiyI
. The speaker in the video is a midrange out of a Bang & Olufsen Penta. See also for more manuals:
www.refoam.info
.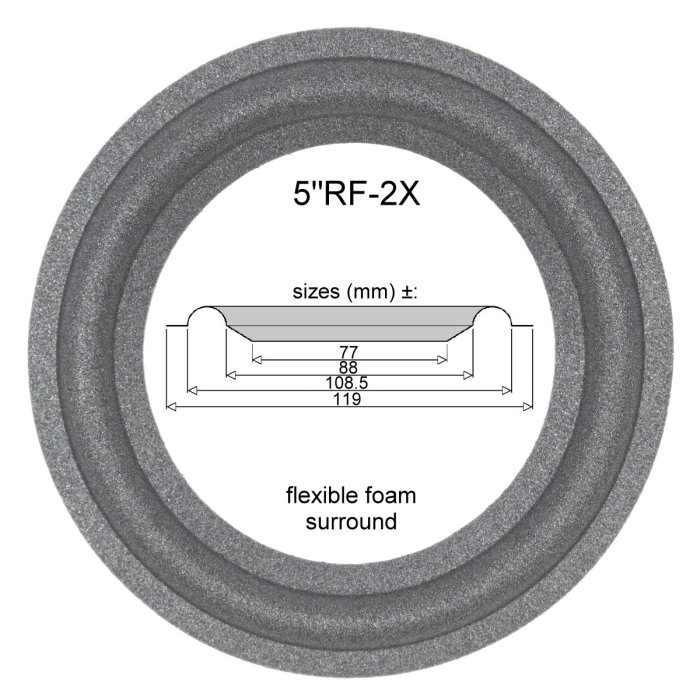 11 september 2019:
THE rubber surround 4"AF-86B (specially manufactured for Audiofriends out of natural rubber) for your Bang & Olufsen C30, C40, C50, C75 and CX100: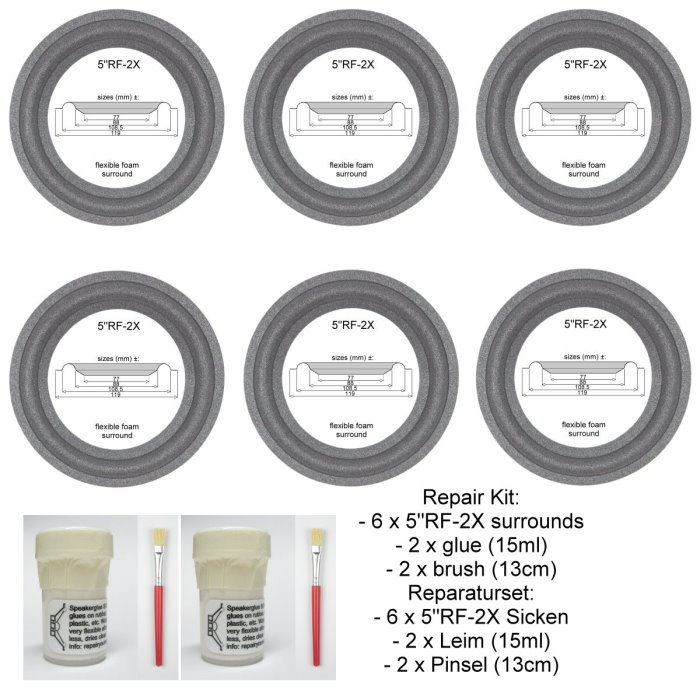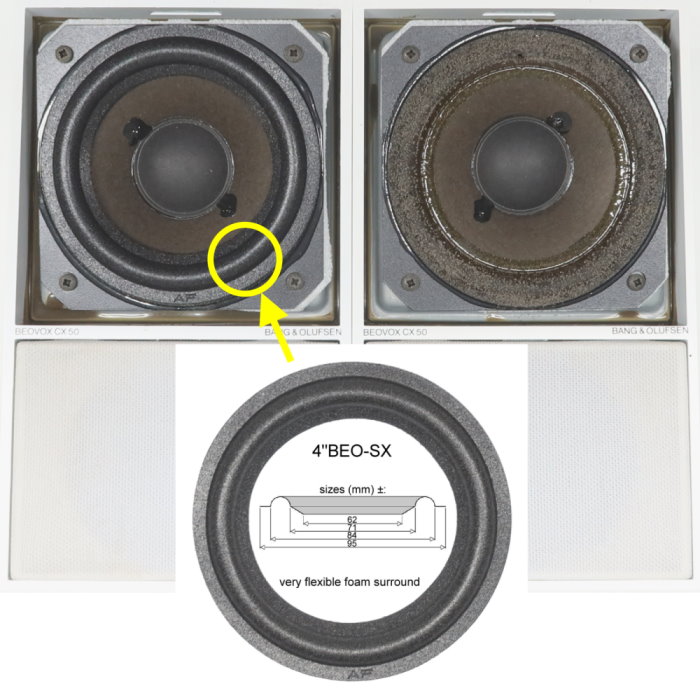 7 May 2019: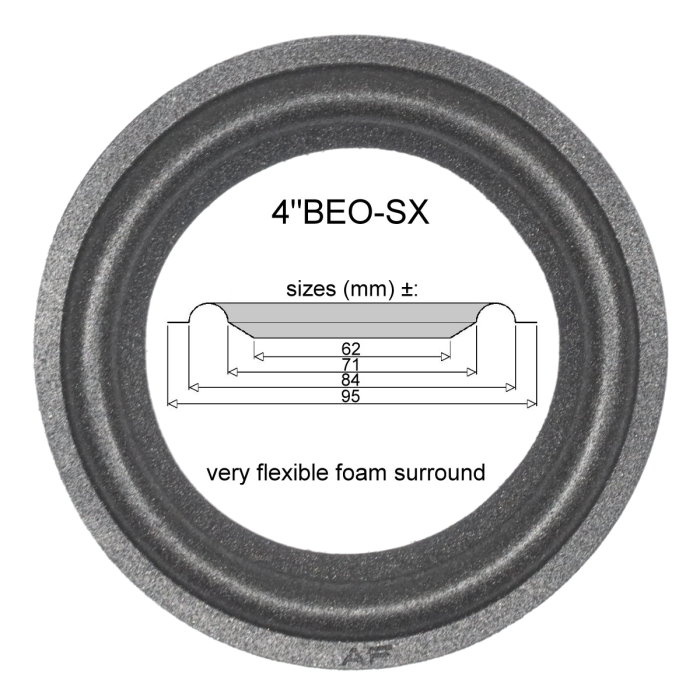 23 April 2019:
Hints for various speaker repairs:
- Restore CDs.
- Speaker clotch replace.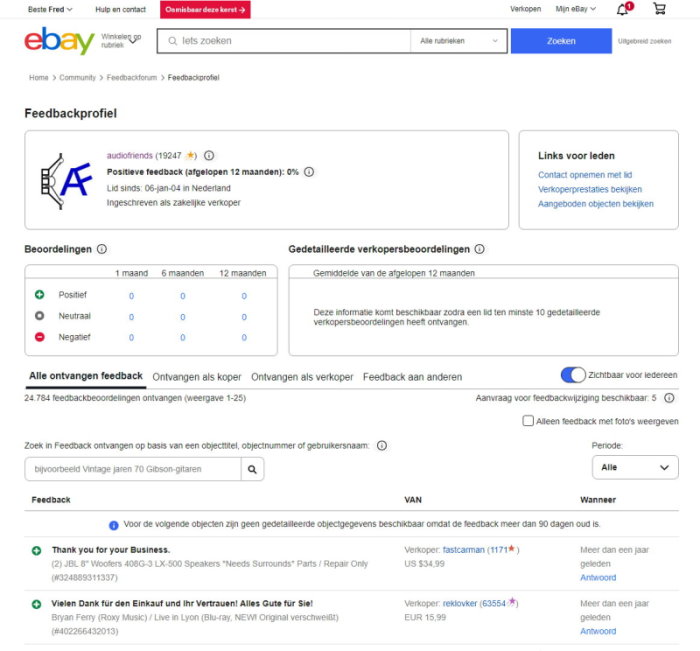 17 april 2019: New - well tested - flat foam surround for the Audax MHD12 P25. Perfect shape and perfect sound. Only at Audiofriends.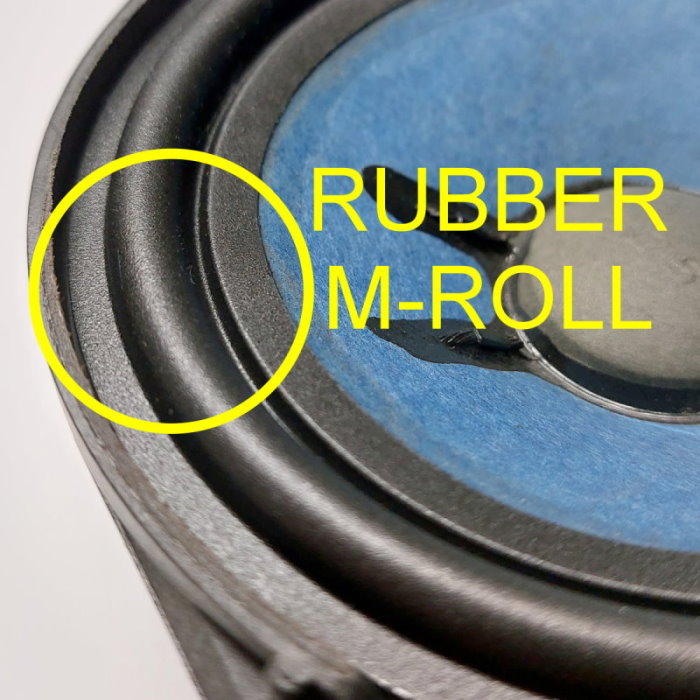 4 July 2018: New: You can now also search the list 'Surrounds by size' at the left in the webshop.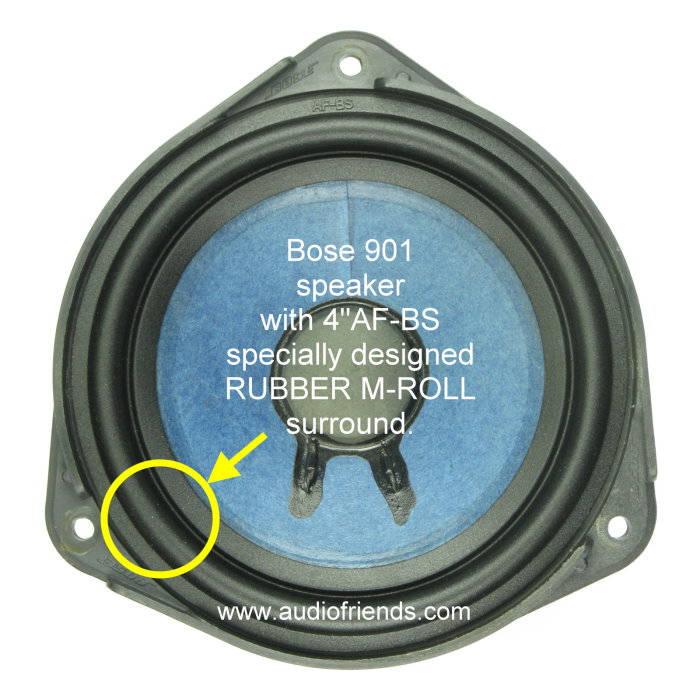 10 March 2018: B&O Penta new manual / video:
https://youtu.be/BLDxISdwNio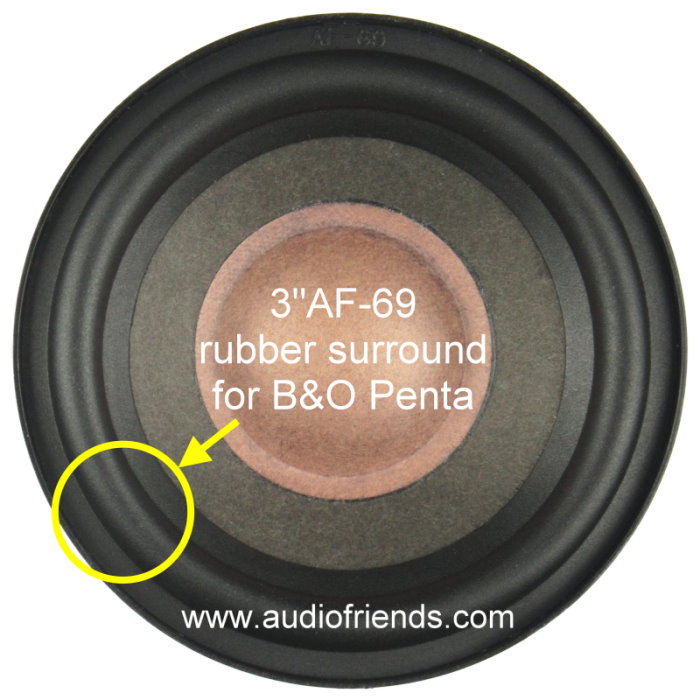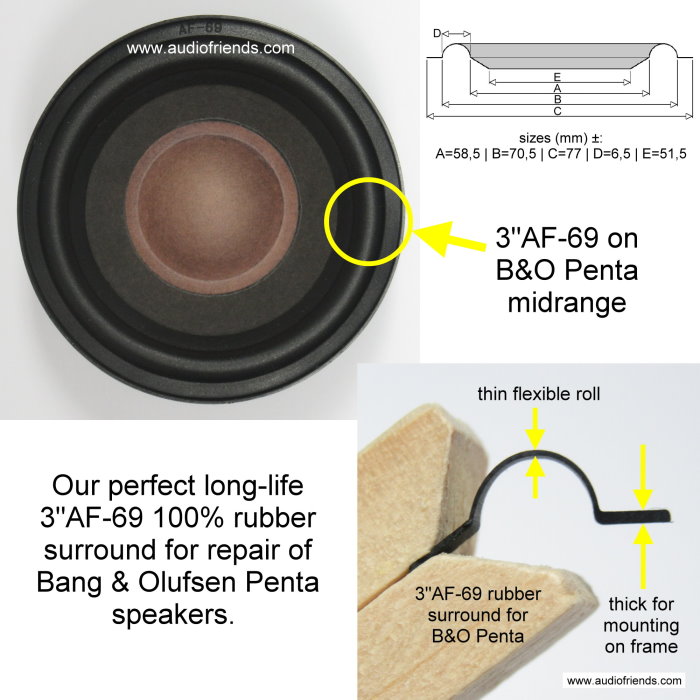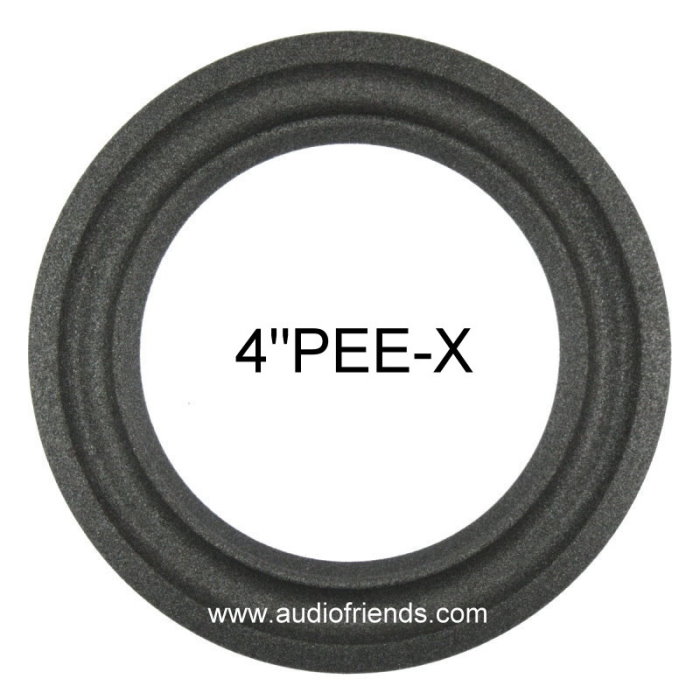 October 2017: New flat edges for the Audax PR17, MHD17, HD17, PRD17 manufactured by Audiofriends. Sizes and material identical to original.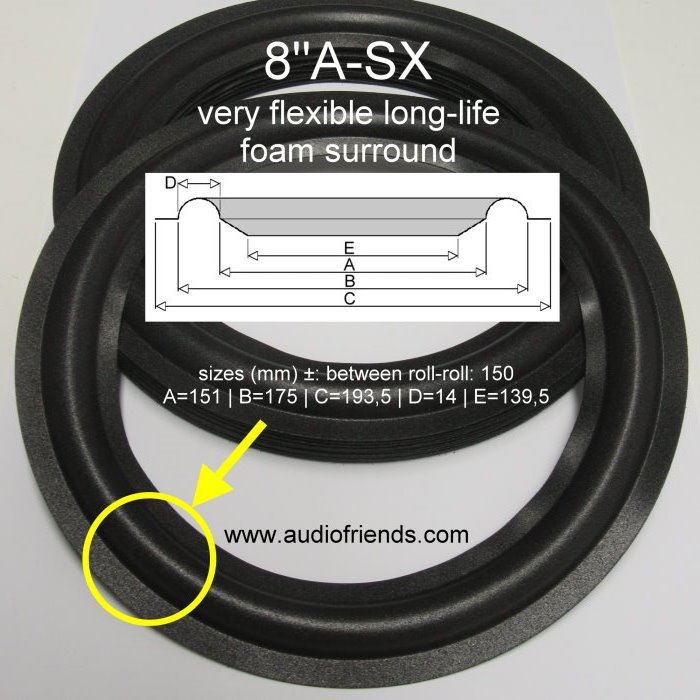 September 2017: New video for the repair of the plastic surrounds into rubber surrounds of the B&O Bang & Olufsen Beolab 6000 and Beolab 3500 with voice-over (English) and more information:
https://www.youtube.com/watch?v=RxZ8ISZ3SRU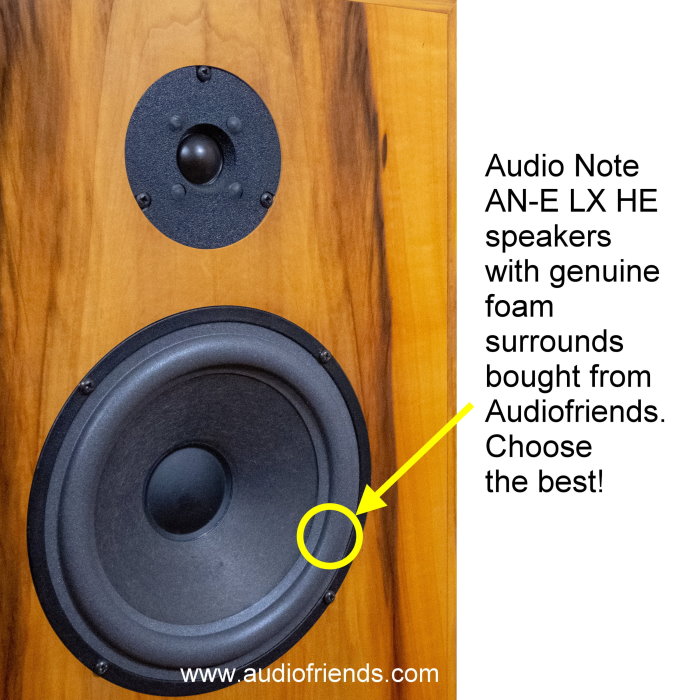 September 2017: We have manufactured the perfect rubber surrounds for replacement of the surrounds of the Bowers & Wilkins Sorrente series. These gray surrounds often become hard and at the end tear apart. Audiofriends also made a matching video to make simple tools a perfect result:
https://www.youtube.com/watch?v=sSyiHvF_604
.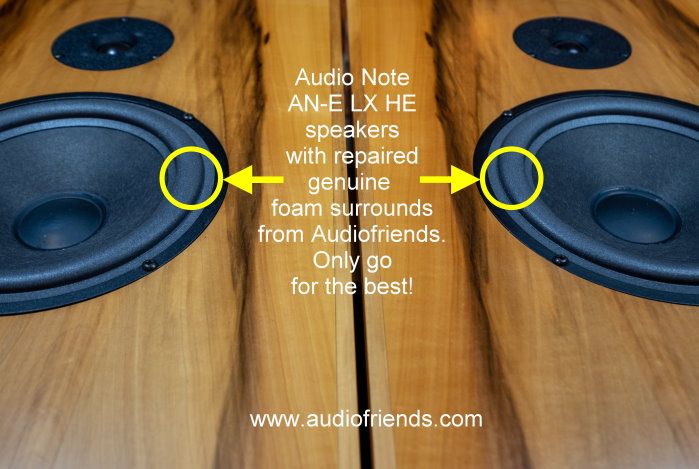 April 2017: Coming soon: rubber surrounds special made for the Bowers & Wilkins Sorrento speaker sersies...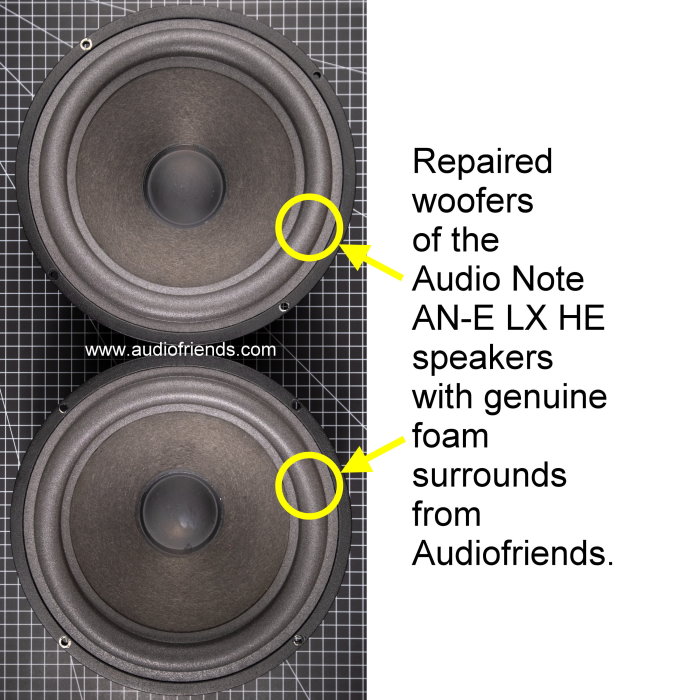 October 2016: Special made surrounds by Audiofriends for the SEAS F-M11. The surround is called AF-SE.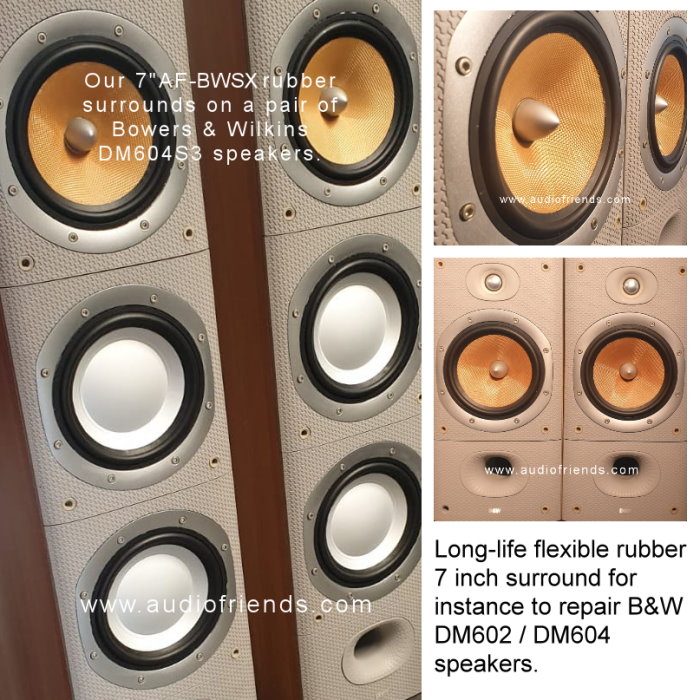 Januari 2016: New surrounds made by Audiofriends: for Grundig 7 inch speakers (Audiorama 4000/8000 etc.), Fostex 180N, Vifa 6,5 inch and others.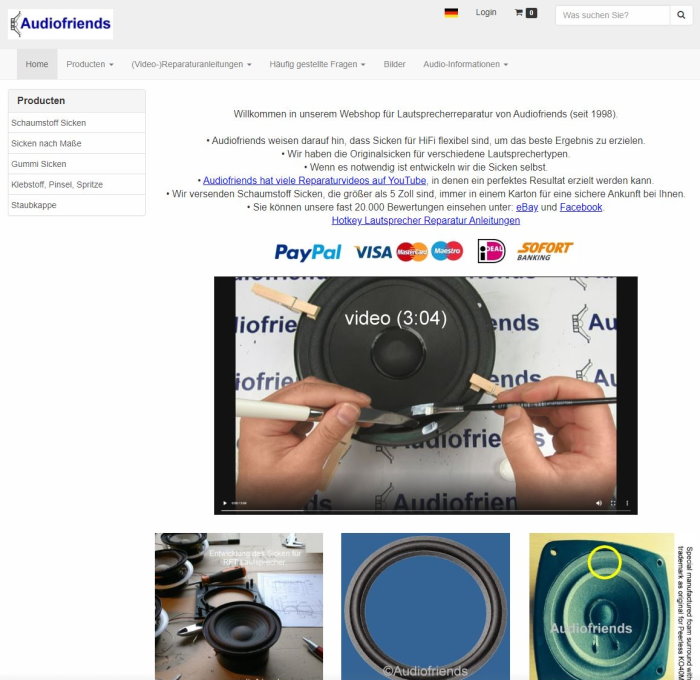 December 2015: We take no more orders to private persons adressed to a company. This because of major problems by receiving the goods.
December 2015: many new surrounds
September 2015: Because the 'login' function gives problems most times by using it as giving there new address, we removed this feature.
April 2015: New 'inverted' foam surround for Peerless KO40MRF. See also www.facebook.com/audiofriends.
January 2015: New 2"FO-2 for the Focal tweeters. t = 1,0mm.
Oktober 2014: New 5"KFO-X, genuine very flexible rubber surrounds for the KEF B110 and Bang & Olufsen Penta.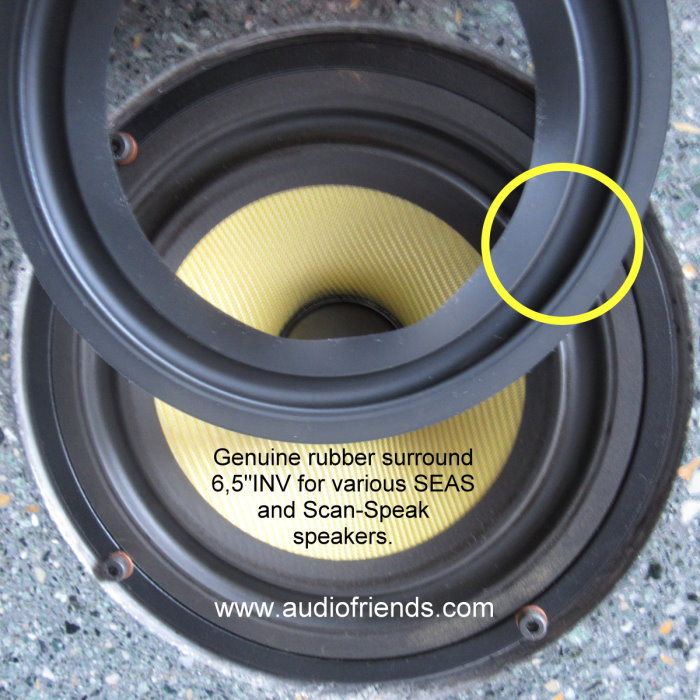 This website in not completelly ready yet. Sorry for the inconvenience.